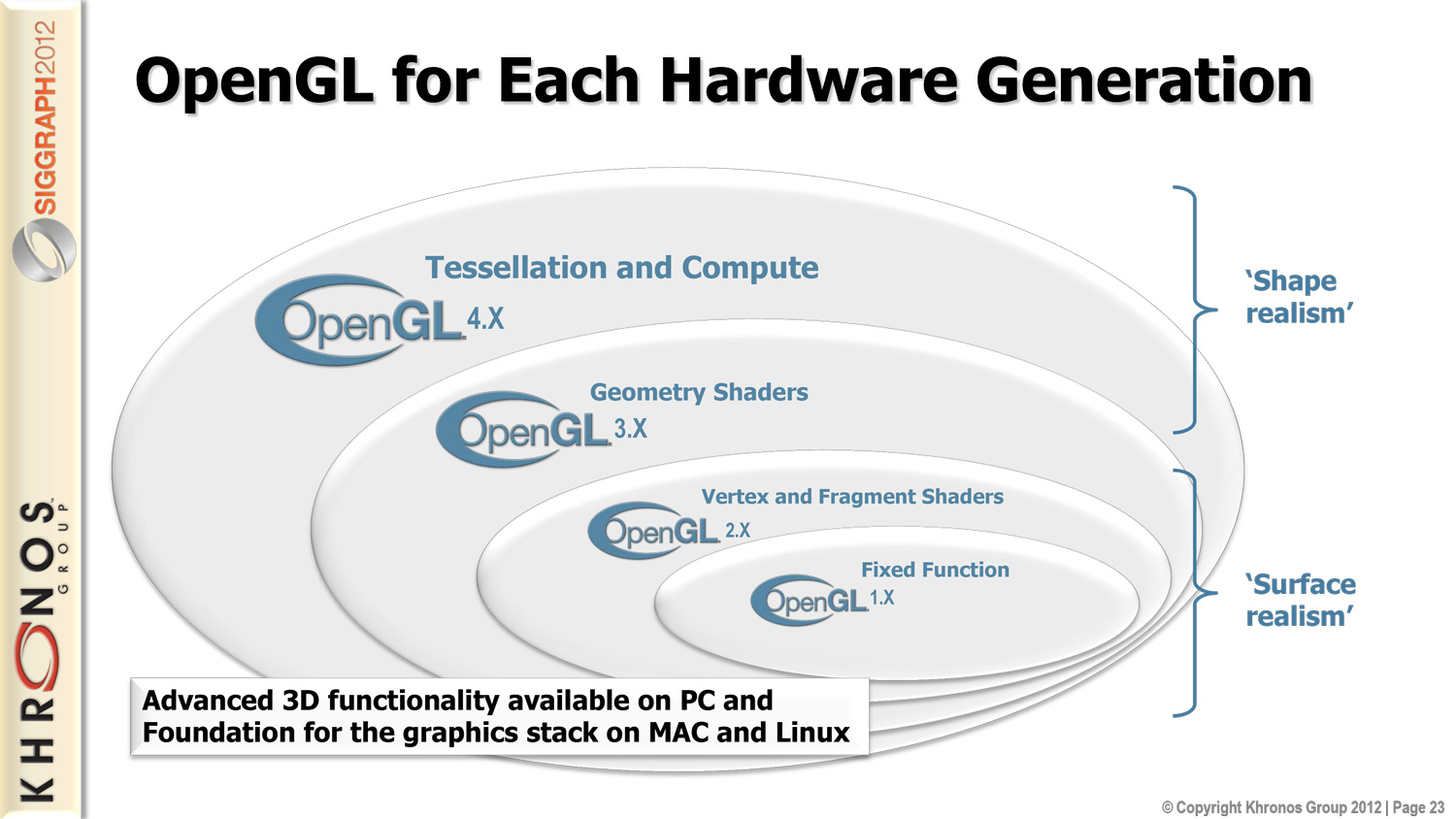 Recently, Khronos team released the latest version of OpenGL 4.5 standard specification, the new features include: Direct State Access, simplification of objects like textures, shader programs,properties settings and queries, easier porting from DX11 to OpenGL, etc. The new version brings the most advanced features into the industry's most advanced 3D graphics API while maintaining backwards compatibility, so that the program can use the new feature gradually.
OpenGL 4.5 major new features:
Direct state access (DSA): direct access and modify OpenGL objects without bindings to OpenGL objects (bind operations, such glBindBuffer), improve the efficiency of applications and middleware.
Clear Control: The application can clear (Flush) pending commands before switching rendering environment to improve performance in multithreaded applications.
Enhance the robustness: providing a safe platform for applications, such as WebGL browser, including the prevention of GPU reset affect other running applications.
OpenGL ES 3.1 API and shader compatible: easy to open on the desktop platform for developing and implementing the latest OpenGL ES applications.
DX11 feature Simulation: more easily migrate from DX11 to OpenGL.
DSA has been devoted as an extension to the developer over the years, now it's the first time it become part of the formal specification. AMD Mantle and Microsoft Direct3D 12 can both take advantage of graphics hardware to enhance performance, Khronos Group announced that it will also develop a similar high-performance low-level API, new API will become a vendor-neutral and supports cross-platform in the near future.
The OpenGL Registry contains specifications, header files, and related documentation for OpenGL and related APIs including GLU, GLX, and WGL. In addition to the core API specifications, many extensions to these APIs have been defined by vendors, groups of vendors, and the ARB. The Registry also contains specifications and header files for all registered extensions, written as modifications to the appropriate core API specifications.
The Registry also includes naming conventions, guidelines for creating new extensions and writing suitable extension specifications, and other documentation related to these APIs.